Extras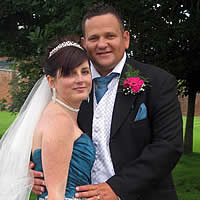 You may also chose from a number of optional extras which include the following:
The bride leaving home
Filming the final moments before leaving for the church.

Opening pictorial sequence
Photographs of your choice showing the bride and groom from childhood up to the present day.

Evening reception
Coverage of the evenings events and the first dance up until 11 o'clock (after which it's £50.00 per hour).

Second camera
For more continuous coverage (this is not always available).

Dvd copies
720 * 576 mpeg2 dvd digital recording (excellent quality).

Highlight video (dvd)
An extra video showing approx. 30 mins of highlights, ideal for family and friends and as gifts to those not present. Minimum order of 10 DVD's.
ALV
Wedding Video Examples

We have produced a number of short example videos, please see our gallery page to view.
Contact Us

Please contact us if you have any queries or wish to receive a free sample DVD..