Please contact us with any booking enquiry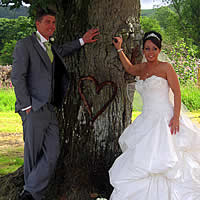 To complete a printed booking form please click ... (here)
For any booking enquiry please contact us via the following address or please use the contact form below.
Cil derwen
Manafon, Welshpool
Powys
SY21 8BJ
Tel:     01686 650676
Mob:    07713 512122
E-mail: alun@alvideo.co.uk
Testimonials
James and I absolutely love our wedding dvd, it is perfect and captures our wedding day wonderfully. We thank you for doing such a great job throughout and I will be recommending you to everyone we know. If you ever need a reference to prospective clients, we would be more than happy to oblige.
Thank you again. Elizabeth and James.
I just wanted to drop you a line and say thanks for the wedding dvd, it was brilliant, I even prefer it to the professional photos! You were also very unobtrusive throughout the day as well, I forgot you were even there. The montage was excellent and summarized the day perfectly. I used to think wedding dvds and videos were a bit boring but the way you have cleverly edited and the mix of black and white shots with colour ones works brilliantly and we would recommend you to anyone.
Regards, Emma and stuart
Just wanted to say thanks for an excellent job you did with the two videos; they were edited together brilliantly and the music worked a treat. We watched them with a glass of champagne in a plush hotel without kids and had a really fabulous reminiscence. I'd definitely use and recommend your services again!
Thanks again,
Sharon & paul.
ALV